Lightning Start
Powerful root stimulant for veg phase
This wonder supplement for vegetative enhancement is one of New Millenium's most powerful stimulants.
A very exclusive type of seaweed along with a collage of micro and macro elements makes this truly a one of a kind product. A major abundance on cytokinins, auxins, and gibberellins allow for increased cellular division, feeder root stimulation, internodal stacking, and natural potassium supplementation. Use this product sparingly as it contains very potent natural occurring hormones. 5 ML per gallon of solution is excellent as an initial dose every 14 to 28 days; all other in-between feedings should be compensated down to 1-3 ML per gallon of solution.
Use exclusively in veg phase
N: 0.2 | P: 0.2 | K: 0.7
1 Quart (940mL) – 2.2lbs (1kg)
1 Gallon (3.8L) – 8.8lbs (4kg)
2.5 Gallon (9.5L) – 22lbs (10kg)
5 Gallon (19L) – 44lbs (20kg)
Information regarding the contents and levels of metals in this product are available at: www.aapfco.org/metals.html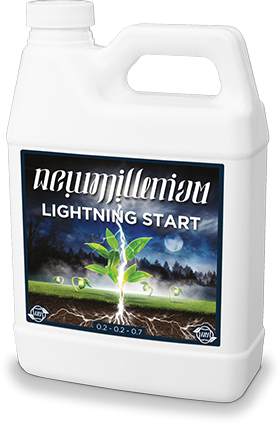 For more information see the section

A complicated product to manufacture, but well worth the efforts. This concoction will stimulate roots, branching, and nitrogen uptake within the plant.

For foliar application use 5-10ml per gallon every other week.

Use exclusively in vegetative growth to increase vigor and decrease internodal spacing.
Select:
More Information
Lightning Start is formulated to promote vigor during the vegetative growth phase. This specialty fertilizer is intended primarily for non-farm use, such as home gardens.
KEEP OUT OF REACH OF CHILDREN!
Fertilizer contains more than .001% Molybdenum. The application of fertilizing materials containing molybdenum may result in forage crops containing levels of molybdenum which are toxic to ruminant animals. Apply less than 130 gallons of product per 1000 sq. ft. per year.

Download the Lightning Start MSDS Sheet click here
To see our full feedcharts click here
Directions For Use
Shake Well
Use exclusively in Vegetative growth to increase vigor and decrease internodal spacing.
Apply every watering at a rate of 1 to 3 mL per gallon during vegetative growth. 5 mL per gallon is applicable, but never more than 1x per week.
Guaranteed Analysis
Total Nitrogen (N)…………………………………….0.2%
0.2% Nitrate Nitrogen
Available Phosphate (P2O5)………………………..0.2%
Soluble Potash (K2O)…………………………………0.7%
Molybdenum (Mo)…………………………….0.00287%
Derived from:
Ascophyllum Nodosum Seaweed, Potassium Nitrate, Sodium Molybdate, and Monopotassium Phosphate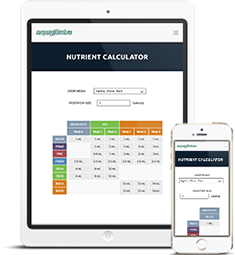 Nutrient Calculator
Customize and tailor the New Millenium Feeding System specifically to your gardens needs.
Click Here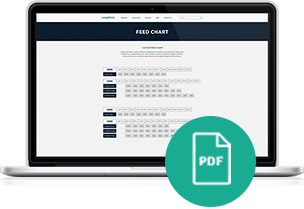 Feedcharts
New Milleniums Feedchart is easy to follow for any grow phase.
Click Here